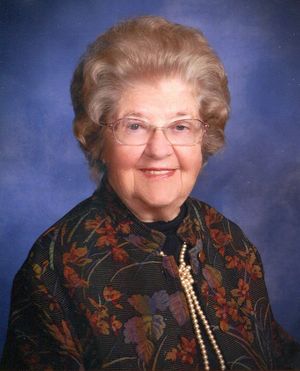 Doris L. Smith, 95, of the Lake Alice Community, died Wednesday, Nov. 4, 2015, at Heritage Estates in Gering. Visitation will be from 4-7 p.m., on Sunday, Nov. 8 at Dugan-Kramer Funeral Chapel. Private family interment will be held at Fairview Cemetery. A memorial service will be held at 1 p.m. on Monday, Nov. 9 at Heritage Estates in Gering. In lieu of flowers, memorials may be given to the First Presbyterian Church or West Nebraska Family Research & History Center. Her obituary may be viewed and condolences left at www.dugankramer.com
Doris was born April 6, 1920, in Scotts Bluff County, Nebraska, to Chet J. and Hazel M. (Smith) Stratton. She attended school at Lake Alice until the 10th grade, graduating as salutatorian from Scottsbluff High in 1937. She was united in marriage to Earl R. Smith on June 18, 1938, at Scottsbluff. The couple raised their daughters on the Smith family farm in the Lake Alice Community.
Doris and Earl were partners in the farming operation, with Earl running the farm and Doris handling the books. Doris took pride in raising a garden and chickens to provide for her family. She was an involved 4-H leader for many years and helped at the Scotts Bluff County Fair and served on the election board. She was an avid genealogist, documenting the Smith family tree back to the Mayflower. Doris kept track of everyone's birthdays and anniversaries and was the family historian.
Doris was a member of the First Presbyterian Church in Scottsbluff where she attended bible study and helped with the womens groups. She was a member of the Rebecca Winters Genealogy Society, the DAR, and volunteered for the Hospital Auxiliary. She was an avid sports fan, especially baseball.
Doris is survived by her daughters Sharon Abner of Gering, Earlynn Lawrence of Alliance, and Anita (Gary) Rein of Chadron; son-in-law Mike Durnal; sister Shirley (Dale) Staman; grandson Bryan and Mikaela Abner and children Zane (Jen) Abner and daughter Haven and another one due in January of 2016 and Addie Jo Abner and fiancé Bryce Rossman; granddaughter Sheri (Jay) Ehler and their children Bowdy (Kassie) and children Finlea and Graham, Paxton Ehler and Alli Jay Ehler; grandson Jerrod (Jackie) Lawrence and their children Reigan and Isaac; grandson Heath (Shannon) Lawrence and their children Aubre and Riley; granddaughter Cara (Ryan) Fiser; granddaughter Nikki (Jay) Masek and their children Ashton and Cooper; grandson Darren (Andrea) Rein and their children Maci Rein-Lake and Jamie Modec; granddaughter Lindsay Rein; grandson Levi (Ali) Durnal; granddaughter Mariah (Shawn) Boley and their children Matthew and Abbee; several nieces, nephews, and cousins including Connie Miles.
Doris was preceded in death by her parents Chet and Hazel Stratton, father-in-law and mother-in-law W.C.F. and Edith Smith, husband Earl R. Smith, daughter Adrienne Durnal, sons-in-law Roger Abner and Allen Lawrence, sister Kay Stratton, and brother Kenneth "Bud" Stratton.