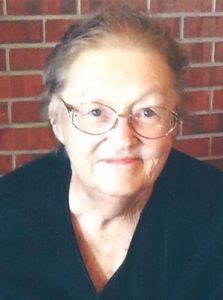 Carole Ann Tucker, 78, of Brighton, Colo., passed away Nov. 20, 2014. She was born July 26, 1936 in Scottsbluff to Charlie and Irene Jenson.
She attended Flowerfield School for kindergarten, Harrisburg Elementary School for first through eighth grades, and graduated from Banner County High School in 1954 as co-salutatorian. She attended Nebraska Wesleyan University 1954-1955.
In 1954, Carole met Walt Tucker of Scottsbluff while he was home on leave from the U.S. Navy. When Walt returned to his ship, he and Carole wrote to each other every day for the following year. On June 26, 1955, Carole & Walt were married in Scottsbluff. They lived in Providence, R.I., where Walt was stationed. In 1956, Carole returned to her parents' home in Banner County to await the birth of their first child, Marsha, who was born one month after Walt was discharged from the Navy.
Carole was a homemaker for most of her life. She was always involved in the school's PTA and was also a Camp Fire Girls leader and a 4-H leader. She dedicated much of her time taking her daughters and later her grandchildren to the zoo, parks, library and the Scottsbluff Monument. She was loved by the neighborhood children and she always made them feel welcome. Carole's grandchildren and great-grandchildren were the light of her life and they adored her as well.
Carole worked at ABC Nursery for two years in the 1970s and was very knowledgeable about plants and gardening. Her home was always full of houseplants and she always had a large garden, canning and freezing the produce of the garden.
Carole's greatest passion was genealogy. She began working on her family's history in the 1960s, storing everything in a large trunk that she pulled out when she had time to write letters. As technology progressed, she began using a computer and other resources. Over four decades, she also helped thousands of people research their own family history. She was a member of Scottsbluff's Rebecca Winters Genealogical Society for a number of years, serving as President for two of those years. She worked as a non-member volunteer at the Family History Center at Scottsbluff's Mormon Church from 1987-2004.
Carole also worked a lot on Banner County history, and extracted all the Banner County newspapers dating 1984-1955 when they stopped publishing. She worked on many projects like this so the information would be available to people doing research.
In 2004, Carole helped Floyd Smith, III found the West Nebraska Family Research & History Center in Scottsbluff. She was among a number of volunteers who kept the center open and helped local people as well as people from across the country who stopped in to do research. She volunteered at the center several days a week until moving to Colorado in January 2013. Carole was a wealth of information about obscure details and resources. It meant so much to Carole that she was able to facilitate a family reunion between a local woman and her relatives when they visited Denmark by providing her with critical information through her own genealogical research. She always felt great satisfaction when she could help people connect with their family history and learn where they came from.
Carole made hundreds of treasured friends across the U.S. and even in other countries through her genealogical work. She corresponded with many of these friends over the years and some would come to visit her when they traveled through Scottsbluff. Above all, Carole wanted everyone to know that she cherished her friendships beyond measure, including the lifelong friends she made everywhere she had worked and volunteered.
Carole is survived by: brother, Dean Jenson of Oregon; grandson, Daniel Skubal and great-grandson, Joshua; daughter, Barb (Ken) Eleson; granddaughter, Melanie Eleson (Kevin Schultz) and great-grandchildren, Emma, Devin & Maya; granddaughter, Tassidy Weaver (husband C.A.) and great-grandchildren, Caleb, Kaitlyn and Corey; daughter, Tamara (Bob) Cox, grandson Ian (Michelle) Cox and great-grandchildren, Gabe & Jude; grandson, Carter (Alicia) Cox and great-grandchildren, Iselin & Emerich; grandson Levi (Kristin) Cox; daughter, Carole (Dean) Spurlin, granddaughter, Alissa Tucker (Robert Jager) and great-granddaughters, Sadie Ellbogen and Kaylee Mead; granddaughter, Emily Phifer; nephew, Grant Wittenwyler (wife, Michelle).
She was preceded in death by her parents; her husband, Walt Tucker; her oldest daughter, Marsha Ann Tucker and her sister, Joan Wittenwyler.
Memorial contributions can be made in Carole's name to the West Nebraska Family Research & History Center in care of Floyd Smith, III, 1602 Ave A, Scottsbluff, Neb., 69361.