Walton G. Roberts (1867-1959) owned and operated a funeral home/parlor/mortuary beginning in 1887 in Lincoln, Lancaster Co., NE. During his time in the business Mr. Roberts became the President of the National Association of Embalmers and was the President of the Nebraska Funeral Directors' Association in 1900.
The funeral home began operations with its first service taking place on January 5, 1888 and continued through to end of 1948. The records created at the mortuary were offered for sale on eBay back in 2010 and were purchased by us with the intent of preserving the records while making them available for research by family historians. When we purchased the records we didn't realize nor understand the extent of the collection until we actually received them. We did not received just a few records or even a part of the collection, we received ALL of the W.G. Roberts Mortuary records. The collection consisted of five large books with both hand written and typed funeral record information for every person entrusted with and cared for at the mortuary. The first record in the first book is actually record #1 and is for an unnamed infant, child of H. Goldwater with a death date of Jan 5, 1888, and burial in the Jewish Cemetery on Jan 6, 1888. The last record of the last book was for a Dr. Frederick W. Webster and is dated Dec 30, 1948, presumably the last funeral handle by the W.G. Roberts Mortuary.
The records from 1888 through to 1929 were written in large ledger style books and contained the following information for each person and spanned across the two open pages when laid flat:
Record No. | Date of Death | Size | Style | Price | Deceased Name | Relative | Ordered by | Age | Robe | Zinc Box | Total | When Buried | Where Buried | Residence
Book 1 contains record #1 (Jan 5, 1888) thru record #6316 (Dec 31, 1911)
Book 2 contains record #6317 (Jan 2, 1912) thru record #12676 (Jul 2, 19__)
Book 3 contains record #9454 (Jan 1, 1930) thru record #10460 (Jun 5, 1939)
Book 4 contains record #10461 (Jun 10, 1939) thru record #11457 (Dec 30, 1948)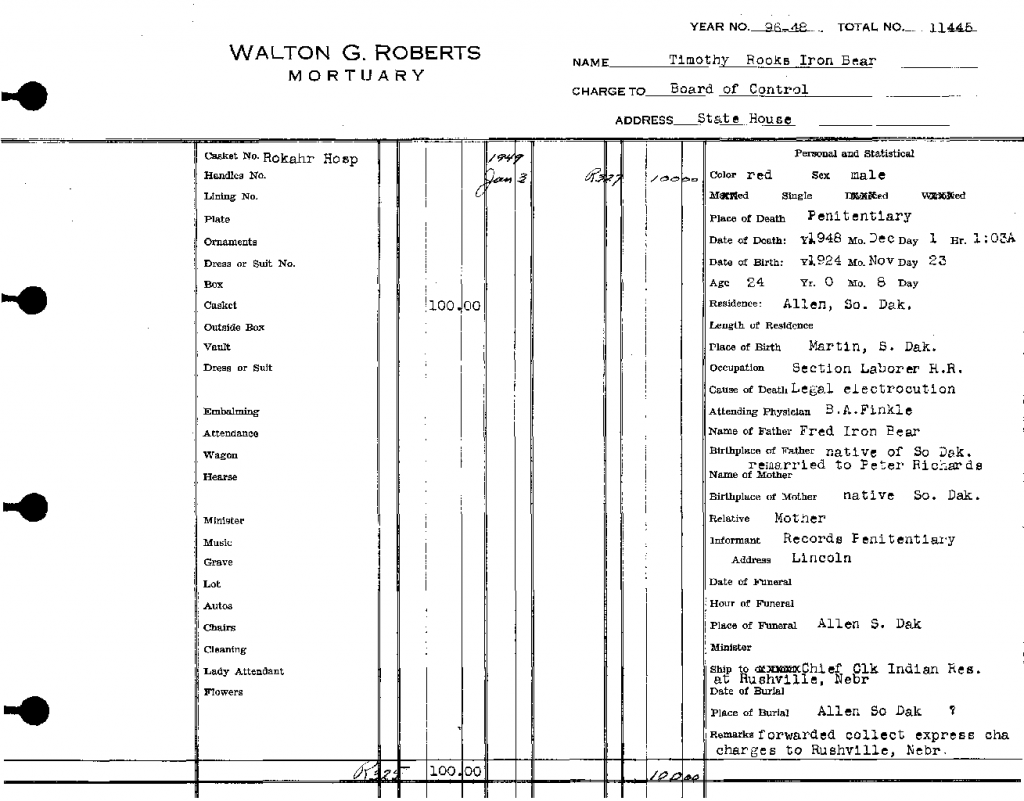 The records beginning from Jan 1, 1930 through to the final record on Dec 30, 1948 were recorded on individual record sheets that were stacked one on top of the other in a book until the book became nearly too big to handle. There are two books of this type, the first contains records from Jan 1, 1930 to Jun 5, 1939, the second book contains records from Jun 10, 1939 to the final record of Dec 30, 1948.
Both of the sample records above are for the only two people we are aware of that the W.G. Roberts Mortuary handled that were legally executed by the State of Nebraska at the Nebraska State Penitentiary. They are Alson B. Cole on Dec 20, 1920, and Timothy Iron Bear on Dec 1, 1948.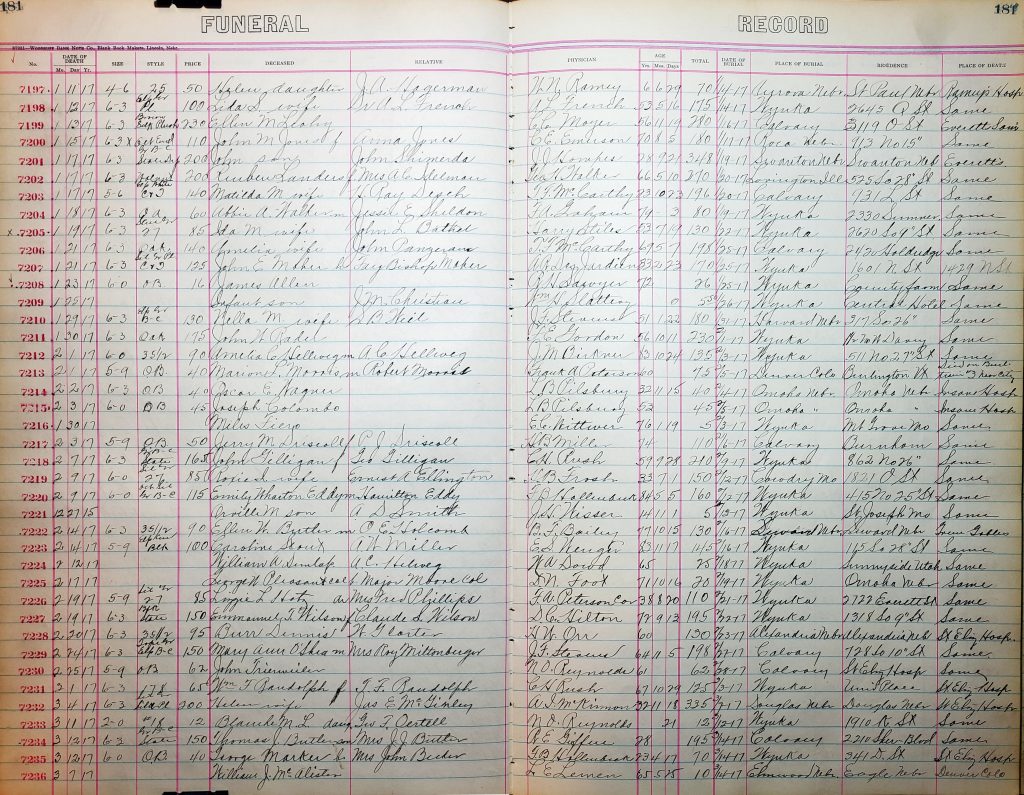 Project Name: WGR
Project Manager: Floyd Smith III
Project Status: In-Progress
[name index 60% complete : scanning of records is complete]
Collection Donated by: Purchased thru an online auction (eBay).
Project Statistics as of: 22 Mar 2021
4049
Number of Names Currently Indexed
4
Number of Record Books in Collection
4689
Number of Scanned Images
Source Information: NebraskaAncestors.org.
Walton G. Roberts Funeral Home Records, 1888-1948 [online database]. © 2013 West Nebraska Family Research & History Center; Scottsbluff, Nebraska, USA.
Data and digital images taken from original records located onsite.
---
---
Browse and Search this collection:
M e m b e r s h i p R e q u i r e d T o A c c e s s T h e s e R e s o u r c e s