As odd as it may seem, collecting memorial cards can be quite rewarding, especially in regards to genealogical information. The West Nebraska Family Research & History Center has been gathering and indexing memorial cards since we opened in March 2004. Our collection contains well over 5000 memorial cards with more added monthly.
Although our memorial card collection focuses primarily on Nebraska we do have memorial cards from all over the U.S. so please understand that we do not limit ourselves to just one particular area, nor do we limit our collection to just currently produced memorial cards.
Although we prefer to collect original memorial cards, we will make photocopies of those that are brought in and the owner is not yet ready to give it away.
Please feel free to contact us if you have questions about our memorial card collection or if you have some that you are willing to donate.
To the right is a sample memorial card from our collection, designs and styles vary greatly as does the amount of information they contain. Many of the current memorial cards also contain the individual's obituary as published by the mortuary and usually one of the local media outlets.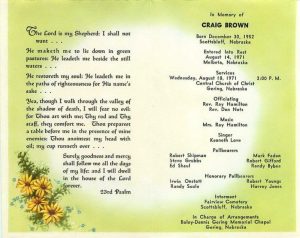 Project Name: MemCards
Project Manager:
Project Status: Active / On-going
Project Statistics as of:
Source Information: NebraskaAncestors.org.
WNFRHC Memorial Card Collection, ca1880-2021 [online database]. © 2021 West Nebraska Family Research & History Center; Scottsbluff, Nebraska, USA.
Data and digital images taken from original records located onsite.
---
---
Browse and Search this collection:
M e m b e r s h i p R e q u i r e d T o A c c e s s T h e s e R e s o u r c e s