The University of Nebraska Medical Center College of Nursing formerly the West Nebraska General Hospital School of Nursing recently moved their offices and training center to a new location out by the airport and while downsizing they suddenly found themselves without enough room to house their school graduates class picture display. We were approached about receiving the collection and of course we eagerly accepted. Below are some photos of the display which will be available for perusal in its current state until January 1st at which time the display will be dismantled and the photos will be bound into book form for easier handling and eventual storage. The collection contains graduating students photos for the years 1952 thru 1988 minus 1963 which is missing from the set. We have been told that earlier photos from the 30's & 40's will be brought to us as soon as they have been unpacked from items that had been in storage.
The West Nebraska Methodist Hospital opened its School of Nursing on October 20, 1924, six months after the hospital opened. During the 1940s, a dormitory was purchased in Gering to house the students who were then bused to and from the hospital for both their classes and work.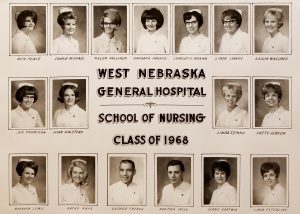 Project Name: Nursing Grads
Project Manager:
Project Status: In-Progress
[approx 50% complete]
Collection Donated by:
Project Statistics as of: 25 June 2021
37
Number of Classes / Years Represented
???
Number of Graduate Photos
2
Number of years missing from collection
Source Information: NebraskaAncestors.org.
West Nebraska General Hospital School of Nursing Graduating Class Student photos, 1952-1987 [online database]. © 2020 West Nebraska Family Research & History Center; Scottsbluff, Nebraska, USA.
Data and digital images taken from original records located onsite.
---
Browse and Search this collection:
M e m b e r s h i p R e q u i r e d T o A c c e s s T h e s e R e s o u r c e s